LIVE FROM BROAD STREET:
SENIOR SHOWCASE
brand identity // illustration
Designers //

Stephanie Cao, Lauren Bottino, &
Heidi Shackleford
Copywriters //

Miana Michaylo & Garry Guseltsev
Faculty //

Melissa Crispin & Joe Glennon
Objective
Design an identity for Temple University's Klein College: Department of Advertising and Public Relations' Annual Senior Showcase, along with creating promotional collaterals
​
Target Audience
Industry professionals, Klein faculty, senior Advertising & PR majors

Strategy
Position the showcase as a place where finding serious talent is no laughing matter for recruiters and employers. Although these talents may be raw, they are ready to take the spotlight
Gatefold invitation with clear foil stamping on spotlight & lights: When opened, a stage is unveiled
Each year, Temple University's Department of Advertising and Public Relations hosts a Senior Showcase, a "reverse" job fair where recruiters and employers are invited to meet the graduating class and view their work. Each showcase is individually branded, with a new theme being chosen by that year's event creative team.
Now in its fifth year, the 2019 Senior Showcase took us on stage and into the open-mic comedy world — because after all, finding serious talent is no joke. The project included the event identity, a promotional campaign (printed invitations, animated emails, and social media graphics, and a landing page) and branded materials for the day of the event (signage, name badges, and tote bags for attendees to collect student business cards and resumes).
Over 700 invitations were printed and mailed to industry leaders, employers, and Temple faculty and staff
Signage indicated the locations of the different tracks in Advertising and Public Relations at the event, and branded name tags were provided for attendees (tan) and students (black)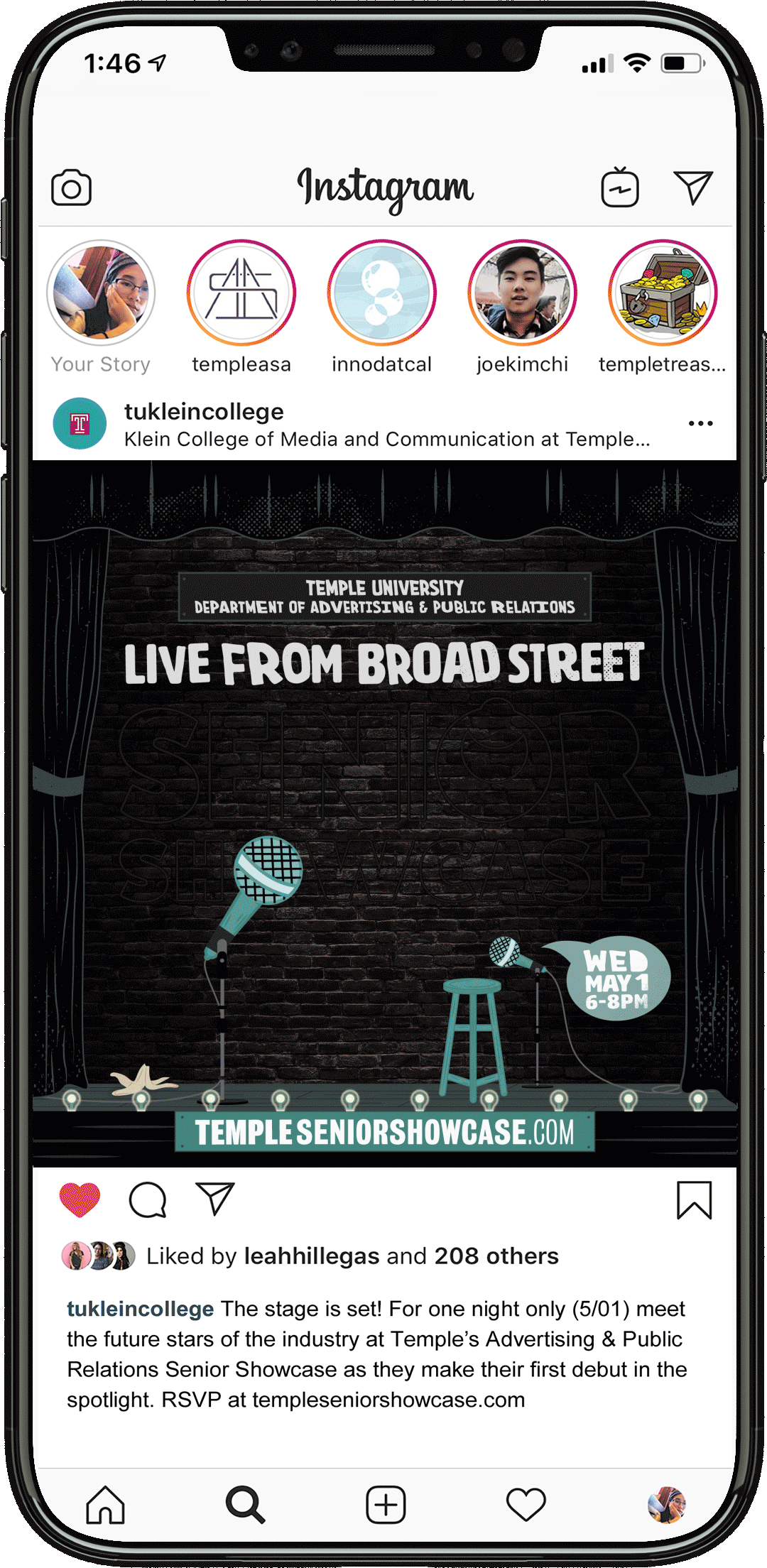 The showcase was promoted via Eventbrite, social media, and targeted email blasts
The event also had its own landing page, with links to student portfolio websites and LinkedIn pages.